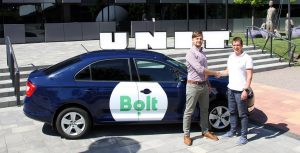 Estonian "unicorn" Bolt to become UNIT.City's new resident
Bolt, an Estonian company with a capitalization of more than $1 billion, will open its office in UNIT.City. Their team of 50 people will be based in the innovation park starting from August. They plan to hire ten more specialists to their third R&D center (the other two are in Tallinn and Bucharest) by the end of this year.
"The latest PwC study highlights five key trends in the transport and logistics market in Central and Eastern Europe. The first is digitalization. 68% of surveyed companies expect a breakthrough by means of technologies," Max Yakover, CEO and Managing Partner of UNIT.City, said.
He believes that UNIT.City is the right place for companies like Bolt: "The fact that one of the 160 European 'unicorns' has decided to open its office as well as an R&D center in the innovation park will unequivocally strengthen UNIT.City and the startup ecosystem of Kyiv. The company will have access to a thousand of students, and its employees will join a community of like-minded people, attend the best industry events, and create new cool products and services."
In Ukraine, this Estonian service opened in 2016 under a franchise model as Taxify but was unable to withstand the competition and had to shut down. The company came back to the Ukrainian market in June 2018 after having changed its name to Bolt. The team managed to attract $175 million of investments from such big players as the German corporation Daimler (manufacturer of Mercedes-Benz) and the Chinese global transportation company Didi Chuxing.
"Moving to UNIT.City opens new opportunities and prospects for us. We're glad to become a part of its ecosystem and hope that this will be a new phase in the company's development, giving impetus to the launch of new projects, new promising partnerships, and new initiatives," Taras Potichny, Regional Manager of Bolt, said.
Bolt has built one of the most diverse transport platforms in Europe and Africa (its vehicles include cars, motorcycles, electric scooters, etc.). The company is currently operating in more than 100 cities in 30 countries, having about 500,000 drivers and nearly 25 million customers. Over the past six months, it has opened offices in Sweden, Croatia, and Finland.
Companies like Bolt is a challenge for the American giant Uber which is gradually losing its "effective monopoly."
Bolt has managed to strengthen its position in Ukraine in a relatively short time. Now it has offices in Kyiv, Lviv, Kharkiv, and Odessa and is competing with Uber as well as the local service Uklon.
Based on information from UFuture, UNIT.City, Financial Times, Kyiv Post.