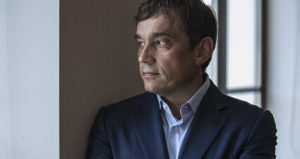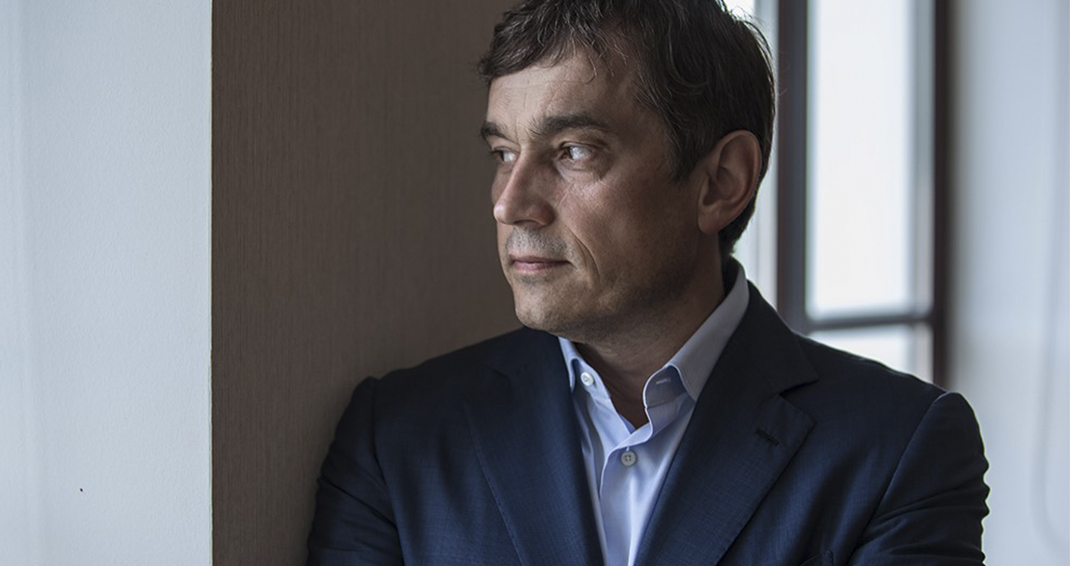 Vasyl Khmelnytsky about making money, Zaporizhstal, and Khreschatyk Bank
An interview with one of the most low-profile Ukrainian multimillionaires
A spacious hall, several security posts, and several signs along the corridor notify us that behind these doors are reception offices of Ukrainian people's deputies from different factions. This is how the office of the Kyiv Investment Group (KIG) looks, located on Lavrska Street. The deputies were provided this haven by their friend and partner, KIG founder Vasyl Khmelnytsky, who is in the focus of Forbes November edition. The businessman is also an experienced politician himself, and since 1998 he has not stopped wearing that MP badge. However, throughout this period, Vasyl Khmelnytsky has never submitted any serious motions. Besides, he's a rare guest at the Rada session hall. The thing is that he has no political ambitions, while there are plenty of business-related ones.
It feels rather cozy at the businessman's office but the view from its windows is pretty depressing – the office overlooks an old tire factory. Khmelnytsky is willing to buy it but has not yet agreed on the price with its owners. "They are asking $250 million, while I am ready to give a maximum of $35-36 million, and that's mostly due to the land plot it stands on," he says, assessing an eye-piercing asset.
Khmelnytsky was born in Kazakhstan, where his parents were trying to give life to virgin lands. When he was two years old, they returned to their hometown of Vatutine in Ukraine's Cherkasy region. There Khmelnytsky graduated from secondary school with Bs and Cs in his gradebook. Then he went to a vocational school to qualify as gas welder-fitter and served in the army's missile forces in Arkhangelsk. In fact, he says his years in the army service were a pure waste of time: "Intellectually, I didn't grow an inch, only physically."
Over his 20-year business career in Ukraine, Khmelnytsky and his partner Andriy Ivanov have been shareholders of a dozen major assets, with Zaporizhstal, Kyiv Khlib, Kyivenergo, and Rosinka plant among them. Almost never has Khmelnytsky sold his companies at a loss. Today Forbes estimates his fortune at $333 million.
In the first part of the interview, he spoke about his first steps in business, the reasons for buying and selling Zaporizhstal, and possible shifts among the owners of Khreschatyk Bank.
– You started your career path in Leningrad. Why did you choose this city?
– My older brother Valeriy used to study evening hours at the Leningrad Institute of Soviet Trade and also worked there in a local port. In 1986, I moved to the city to be closer to him and got a job there at the construction site. There were three advantages in this move: construction workers back then were able to receive a residence permit in Leningrad in just three years of work. After these years of good work you were given a room in a communal [shared] flat; and you could actually make decent money. During the day I worked as a welder and in the evening hours I attended classes at LETI [today it's called Saint Petersburg State Electrotechnical University – Forbes].
"Did you make enough money?"
"My parents were unable to support me financially, and at first, the money I made was not enough. Therefore, I took up part-time jobs on Saturdays and Sundays. At first, I got into hauling furniture, where I could earn some 15 rubles over the weekend. Some days I made no money at all. There was this one time when I was part of a team, tasked with hauling pianos. They wouldn't fit into elevators, so we had to carry them up the stairs, sometimes to the ninth floor. We hauled seven pieces in one day, I believe. We got or money and split it, and all I got was some 4 rubles. I was so tired that I called a cab and just paid all that money to be driven back home. Then I realized that it's not always hard work that can bring good money. Money can come easy, but sometimes you might fail to make any money at all despite all that blood and sweat – these things should be treated in a creative way.
There was this one time when I was part of a team, tasked with hauling pianos. They wouldn't fit into elevators, so we had to carry them up the stairs, sometimes to the ninth floor. We hauled seven pieces in one day, I believe. We got or money and split it, and all I got was some 4 rubles. I was so tired that I called a cab and just paid all that money to be driven back home. Then I realized that it's not always hard work that can bring good money.
– Do you recall the time when the first co-ops started to emerge?
– In 1987, the Soviet Union was already slowly falling apart, production was on decline, and these co-ops began to appear. Initially, they mostly emerged in the field of construction, as they were exempt from taxes. I was late to take advantage of the opportunities during this period. I was a regular worker back then. My fellow construction workers and I started to be invited to take up orders from co-ops. We used to call such offers "khaltura" or "shabashka" [colloquial words meaning "side jobs," often better paid than people's main, official jobs]. At one time we were tasked with doing a paint job on port cranes. We would make around 120 rubles in just 2 days. At our main job, we received the same amount of money for a month.
– So was this the way you made your first money?
– There was a telling story in my life. It was necessary to recruit a team to the construction site. The employers paid 25 rubles a day. So one day I come to the dorm and I see my guys sitting there on the phone, selling beer, saying that you could make some 50 kopecks per can, and there were lot of cans, too. This was the time when all this stock exchange movement began. So I tell them, "Guys, let's go do the job, you can certainly get 25 rubles per day." And they say that their deal is about to be concluded and that they will become millionaires soon. Six months later, I needed workers once again. I come to their dorm and say that there is a job offer and that the pay is 50 rubles a day. And once again, they are sitting there on the phone, trying to seal some deal for the sale of Toyotas. Three years passed, and they were still sitting there, you know. I'd already bought a blue Model 6 Zhiguli and an own apartment. They were looking up at me saying, "Look, how lucky you are!" This is a very showing, and real, story for me. Of course, you can live thinking about your future, but you should go to work and achieve success today.
– When did you come up with an idea to start doing business?
– I was lucky that Sasha Varvarin, who is the brother of Dmitry Varvarin [the founder of Orimi Concern – Forbes] shared the floor in the same dorm with me. He would offer me initial jobs, then I started hiring others, then I became a foreman and set up five construction brigades. This could be called my first managerial experience. Over time, Sasha and I created a construction co-op called Onyx. He became its chairman and I was his deputy. In 1989, he introduced me to his brother. At that time he had already owned a company called Orimi Wood, the second largest producer and exporter of timber in the Soviet Union after LesExport. Dmitry was a very smart, honest, pragmatic, and probably, a bit too inflexible man. He convinced us to leave the construction business and join him.
– And how did you start dealing with petroleum products?
– Sasha opened and became a director at Orimi Oil, suggesting that I be his deputy director. It may seem that construction and oil businesses are different, but management-wise, it was not very difficult for me. In construction, we would do repair works in various buildings and structures, while here it was about wells. In Surgut, we would repair old wells that had worked for 10 years and yielded some 5 tonnes per day. We bought A-50 cranes in Lviv and with their help increased the capacity up to 20 tonnes. They had no money to pay us so we took our pay with oil, processed it at the Angarsk refinery, and sold in Russia and Ukraine.
I got acquainted with Andriy Ivanov at meetings with Dmitry Varvarin. Dmitry offered him a job.
– Was it also the time when you opened Orimi's office in Kyiv?
– In the beginning, we were just selling petroleum products through Orimi Oil. In 1990-1991, when our business began to develop, we decided to open a branch in Kyiv. It was called Danapris. As long as I'm from Ukraine and I had connections here, I was assigned to supervise the branch.
– What did Dmitry Varvarin teach you?
– Initially, he invited me to his meetings and said: "Vasyl, I will be saying smart things, so you just sit and listen." It sounds funny, but it's at these meetings where I grew up. You sit there and you see how strong people make decisions. Six months later, I began to speak up, and in a year or two I was sitting at that table discussing the issues alongside these people. A person can grow up when they communicate with people that are above them intellectually – this is the main value. At these meetings, I got acquainted with Andriy Ivanov. Dmitry offered him a job.
– How come you parted with Varvarin?
– It was 1991, the coup attempt in the Soviet Union, and I'm in Surgut. I came up with an idea that it was time to return home, where my parents, brother and friends lived. The Ukrainian branch was developing well, so Ivanov and I arrived in Kyiv. Soon there were food coupons, hyperinflation, and we got into some messy deals a couple of times. For example, one time we delivered two batches of petroleum products to Mariupol district, 2,500 tonnes each. They were worth a hundred cars. Eventually, we only got paid six months later, and with that money we could only buy a single car by then.
It was necessary to hedge our risks and include in our chain the export component that would bring us hard currency. We went to Zaporizhstal and Mariupol-based Illich Steelmaking Plant, where we bought metal products, sold it for U.S. dollars, exchanged the earnings into rubles, using the money to buy petroleum products. And that's when we got into a disagreement with our head office in Leningrad. Metal is not their business profile, so they did not want to take risks. In 1994, we bought out Varvarin's stake in the Kyiv branch for $500,000 and began to work independently.
– Have you ever crossed paths with him since then?
– Yes, after that we had three or four other businesses with Varvarin, connected with oil depots across Ukraine. In 1994, privatization began in Russia, and Dmitry took an active part in this process, having bought a shipping company, ports, enterprises, and factories. He was very fortunate in this endeavor. He taught me how to work with securities, and when privatization began in Ukraine, we were working together.
That's how we became shareholders of Chernihivnaftoprodukt, Kharkivnaftoprodukt, and Zhytomyrnaftoprodukt. For example, Kharkivnaftoprodukt includes 20 tank farms and 170 gas stations. Despite being a powerful structure, it was not very effective. Back in the day I didn't realize why this was happening.
– And what was the problem?
– We had about 70 tank farms and a thousand gas stations. When we bought them, we realized that without our own source of petroleum products, this business would be ineffective. So we decided to sell them bit by bit and faced a problem. Shell and Lukoil did not buy gas stations from us for $100,000. They just built their own for $1 million. Asked why they're doing it, they answered that our Soviet-style gas stations had been there for 20-30 years, and that there are leaks, and that those sites were had already become environmentally unfriendly. Moreover, they needed nothing from what we had inside these stations, as they were planning to do everything their own way. And they said they didn't need these gas stations even for one hryvnia, because the level of environmental protection was rising in the country and they would have problems over these sites. But we still sold these gas stations to companies that supplied petroleum products, and made good money.
Until 2008, we were actually a private fund. We had a strategy for buying what could bring us additional profitability. We would acquire 5-10% shares of enterprises, and Western funds would buy them out from us. Our yield was up to 100%.
– After your "divorce" with Varvarin, you somehow got a share in the Poltava diamond plant…
"We bought this factory together with Varvarin. Then we sold part of the production capacities to NCH, a U.S.-based investment fund. Now we have a 15% stake in the plant and we receive dividends of some $3,000 per year. NCH bought out Varvarin's package from his widow after he passed [Dmitry Varvarin was killed in 2000 – Forbes].
– Kyiv Investment Group has long operated as an investment fund …
Until 2008, we were actually a private fund. We had a strategy for buying what could bring us additional profitability. We would acquire 5-10% shares of enterprises, and Western funds would buy them out from us. Our yield was up to 100%.
For example, in 1997 we had a 10% stake in Bilotserkivshchyna (Rosava), which I bought from citizens for $3 million. Exactly a month later, a Western fund offered me $5 million for this package. I already agreed with them but I didn't sign the contract. Then there came a call from another broker, who offered me $7 million. Then I called that fund to apologize and tell them that I was selling at a higher price. And they agreed to buy it for $7 million, so I sold it to them. Then it turned out that the broker had things mixed up. He thought I had Dniproshina… On his mistake, I earned an additional couple of millions.
– Have you ever had unsuccessful deals?
– In 1997, we started buying shares of Donbasenergo. I first bought them UAH 10 per share and sold them for UAH 40. Then they went up to UAH 60, and when they suddenly fell to UAH 40, I started buying. I had already read some smart books by then and realized that when there's a drop, I need to buy. When the price fell to UAH 20, I bought a lot, but there was no growth ever after. The shares fell to UAH 2. In 1998, our entire portfolio collapsed. Then we realized that we need to engage in strategic business and buy controlling stakes. The one who runs the enterprise is the boss. That's the way it is so far. Therefore, we proceeded only with buying controlling packages.
– How did you agree with the shareholders? After all, everyone was buying and the competition was high…
– For me, the return to Ukraine was like a transfer of a high school student to the fourth grade. Even if you had Ds in high school, in the fourth grade you will still be an excellent student. In Russia, I went through a good privatization school, and when I came to Ukraine, this process was just beginning.
– Did you get along with the directors of the enterprises?
– It was difficult. Back then, every director sat there and believed that they were eternal and irreplaceable in their chair. We had a 10% stake in Zhytomyrnaftoprodukt, while the rest of the shares were distributed among the staff. I asked the director to accept one of my people to the supervisory board, but he refused. It was if he was saying, "I have a 90% stake, so you just sit quietly and wait for your dividends." I did not like this conversation, so I replied that in a year I will have a controlling stake. He laughed in my face. A year later, we had 50% of the shares, while many members of the staff who sold me their shares had already owned apartments in Zhytomyr. That director was fired.
– Why did you decide to invest in Zaporizhstal?
– With our Russian experience in privatization, we understood that the time of trade transactions is coming to an end, and the owners are coming to the enterprise. We used to work closely with Zaporizhstal, and when in 1997 it was put up for privatization, we decided to buy out the shares. We were buying shares from the population for about five years. Then we bought shares from the funds that participated in the auctions, and from the State Property Fund. In 1999, the remaining 9% of shares we bought for $20 million. Not a very cheap price, so we had to borrow from Edik [Eduard] Shifrin. We later repaid him from our profit.
– Three groups of owners have been formed at Zaporizhstal. How did it happen?
– The shares were being bought simultaneously – on the one hand, by me and Ivanov, on the other – by Edik Shifrin and Alex Schneider, and the third party was Ihor Dvoretsky with Vitaly Satsky. We have been working by signing meetings minutes. Party A must pay Party B a certain amount at a certain time … and these conditions were met. Just human relations. We are now partners with Shifrin in Moscow. We are building together. Businesses partnerships should end amicably, so they can be resumed later.
Satsky is a production expert. He has never dug deep into sales. When we privatized the plant, we promised that he could work as long as he wanted. And when the plant was transferred to the ownership of other shareholders, he remained working. Ihor Dvoretsky was engaged more in finances and banking, while Edik dealt with exports, and we were into privatization. We bought something and shared it equally. We used the plant's profit to acquire metal depots, coke plants, and ore-dressing factories.
– How did you manage to get the state-owned stake in Zaporizhstal?
We created the Center for People's Economy and applied for it on its behalf. It was a trendy thing back then. I just came to the State Property Fund and told them how I could increase production. The Fund consulted the government, and we were handed Zaporizhstal under our management.
They say that everything was not so simple, and you received this package with the assistance from Lyudmila Kuchma…
I met her four years ago. I also met the president but I wasn't on close terms with him. I can say that neither the president nor his wife had anything to do with the allocation of the Zaporizhstal package under my control. Please, note that we did not have a single state official among our partners, all three groups were businessmen. At the same time, had I lobbied this issue, then someone else would have also had such package.
– In 2007, you and Ivanov sold your 33% stake in Zaporizhstal. Why?
In the 90's it was clear that China was starting to rise. It was always a just a market, and suddenly they began to build steel plants. This means that we can no longer sell there. Moreover, they are building new, more efficient plants, they have lower wages, cheaper energy, and this means that they will sell their metal cheaper in our markets. By and large, this is a futile part of the business, from which we decided to withdraw.
– Have you sold your package to the remaining groups of shareholders equally?
We sold everything that we had in Zaporizhstal, along with the ore-dressing factories.
– How much did you get for your package?
Over $400 million.
– And how much have you invested in total in buying up shares?
About $70 million, but you need to take into account that in the late 1990's it was totally different money.
– And where were the funds invested?
Oh, we'd invest anywhere… In land, for example. We have 100 hectares of land in Truskavets, which we bought before the crisis, paying about $15 million. We wanted to build a hotel. Now I can't sell the land plot for this amount of money. We sealed good deals at that time on buying the assets we are still working with, like Ukrvino.
When a businessman goes into opposition, this move bewilders me. Subconsciously, I understand that such a businessman wants to gain more power in the future
– In 1998 you went into politics. Why?
That's an interesting and complex question. I'm not ready to answer it yet.
– Tell me, then, why did you move from Yulia Tymoshenko's Bloc to the Party of Regions? Do you just try to stick with the ruling authorities? Was it easier for you this way?
We always reckon with the authorities. When a businessman goes into opposition, this move bewilders me. Subconsciously, I understand that such a businessman wants to gain more power in the future. Business should be a separate thing, regardless of politics. Had it been possible, I probably wouldn't have gone into politics. I try not to talk about the authorities in a bad way. If you want to talk about them in a bad way, just go to the opposition.
– For most businessmen, going to politics is government relations. Politics helps businesses, but not in terms of some preferences, although this exists, too, but rather in terms of protecting business. A kind of an umbrella from envious people, you know. So what was your goal when you went into politics?
You have already answered this question.
– They wrote that your first election campaign in 1998 was funded by Dmitry Varvarin.
We never took money for our election campaigns on the side. Obligations in politics are a terrible thing, worse than liabilities on a bank loan. They will give you a hryvnia and then they will want to get back a hundred in return plus five posts.
– Have there been cases when politics harmed your business?
Next question.
– Bankers say that you have a good credit history and even in times of crisis, you fulfilled all obligations. Did you have the opportunity to pay back or is it a matter of your reputation?
We do not like to owe to someone. And if we have borrowed, then we treat borrowed funds better than our own. Reputation is when you choose, whether it's beneficial to you or not, while faithful servicing of your loans lies at our core.
– Your banking business started with National Investments…
We were related to three banks – National Investments, the Real Bank in Kharkiv, and Khreschatyk. We sold the first one to the bank's managers, with whom we remain in excellent relations. We sold the Real Bank to our local partners last year [after that, it was resold to Serhiy Kurchenko – Forbes]. In Khreschatyk we now have 37% of shares, Ihor Dvoretsky has 37%, and the Kyiv State City Administration has 25%.
– There are reports that changes may soon take place in the composition of the bank's shareholders.
We are now at the crossroads, whether we should buy from Dvoretsky his package or sell him ours. The banking market today is in a very bad situation.
– Do you have any privileges in the Khreschatyk Bank given your status of a shareholder and an impeccable credit history?
No. In the Khreschatyk, we have loans at 22-23% interest in Ukrainian hryvnia.
– How did you meet German Gref?
It was 10 years ago in Russia. He was a minister back then. I learned a lot from him. There are many coincidences about the two of us – we were both born in Kazakhstan, in one oblast, we both worked in St. Petersburg, although we hadn't known each other at that time. He always learns, and introduces new knowledge into life. I also try to learn all the time. He always gives me some new management books, and I try to read them all.
– Did this acquaintance help you to establish contact with Sberbank, which in the crisis period opened a $135 million credit line for UDP?
A good relationship with Gref does not give you the right to get loans from the bank. He is a very intelligent and cautious person. In 2007, there was a boom in the IPO, and we also wanted to bring our company to the stock exchange. We had the best analysts; we paid about $5 million for due diligence, hired two investment banks. Our company was estimated at $1.5 billion at the time.
We acquired Rosinka for $20 million and a year later we sold to the investor for $62 million. The crisis brought along some adjustments, and this strategic investor came to us and offered to buy back the plant for $25 million. We settled down to $12 million, we bought it and resold again. It turned out that we earned twice on Rosinka
We were growing up quickly, and there was a need for financing, so we asked Sberbank for $500 million. We were only given $250 million, and only $135 million in the crisis period. The bank took as collateral everything that could be pledged, they personally visited all of our facilities, having received from us personal guarantees, and they have been tracking down every penny of their loan.
– Did you have to transfer all your accounts to Sberbank?
We gladly transferred our turnovers to them, and this helps us save money. Anyway, they control us so much that there is no temptation to take working money and invest it in some other business.
– One of your partners is the current first deputy minister of infrastructure, Kostyantyn Yefymenko. How did you meet him?
In the early 2000s, Ivanov and I began to buy shares of Bila Tserkva-based plant Tribo, we collected 12%, and looked for ways to increase our package. Around this issue, I met a young, enterprising, and persistent businessman Kostyantin Yefymenko. Together we bought enough to secure a controlling stake, he took up operational management, and the plant began to show tremendous growth. Then he also bought our share for good money.
– Your partnership did not end on this and you went for Biofarma, didn't you?
On Biofarma, it was I who suggested that we enter into a partnership. The main thing that is important in business is people. The partner must know their business and understand everything about it. This is the kind of partnership when you can sign something and then go to sleep without any worries. This man is motivated, effective, and able to go for a compromise – I enjoy such a partnership.
– Another of your partners is Vadym Hryb. You bought the shares of Rosinka together. How have you two come together?
In 2006, the director of the plant came to us and offered to sell the shares. This was an interesting asset, so we began to buy. Vadym was buying from another side, and then we co-operated. For us it was a portfolio investment; we bought for $20 million and a year later we sold it to a strategic investor for $62 million.
– But in 2010 you bought back the entire 100%. Why?
The crisis brought along some adjustments, and this strategic investor came to us and offered to buy back the plant for $25 million. We settled down to $12 million, we bought it and resold again. It turned out that we earned twice on Rosinka.