Electric car batteries: four elements for starting production in Ukraine, – Volodymyr Khmurych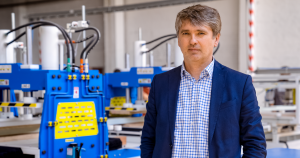 The demand for electric cars and the general trend towards a green economy is growing in the world. An important element of this transition is the starting of new electric car batteries plants, particularly in Europe.
Volodymyr Khmurych, Director of Bila Tserkva Industrial Park, believes that the launch of Li-ion batteries production in Ukraine will require big money and other resources investment. He named four elements for setting up such production while commenting on the topic for the GMK Center:
Availability of confirmed mineral reserves.
Creation of modern material and technical base and construction of advanced infrastructure.
Access to production technologies, staff training.
Organization of supply chains that will cover the market.
The first condition, according to Volodymyr Khmurych, has already been fulfilled: Ukraine has the largest proven reserves of lithium in Europe – about 500 thousand tons. There are also confirmed reserves of nickel, cobalt and manganese, needed for battery production.
Competition with EU countries can be an obstacle to the realization of the idea:
"Eight projects with an estimated annual production capacity of up to 117 GWh are to be implemented in the EU countries in 2021-2022. These projects should meet the needs of the domestic European electric car market and create a production base for export potential."
The strengths of European manufacturers are advanced technology, technical equipment, closeness to markets and qualified staff. Weakness is the remoteness from the raw materials.
Read more about how promising the production of electric cars batteries and electric cars themselves in Ukraine via the link.