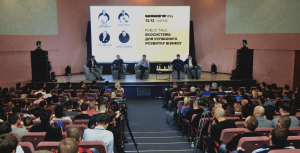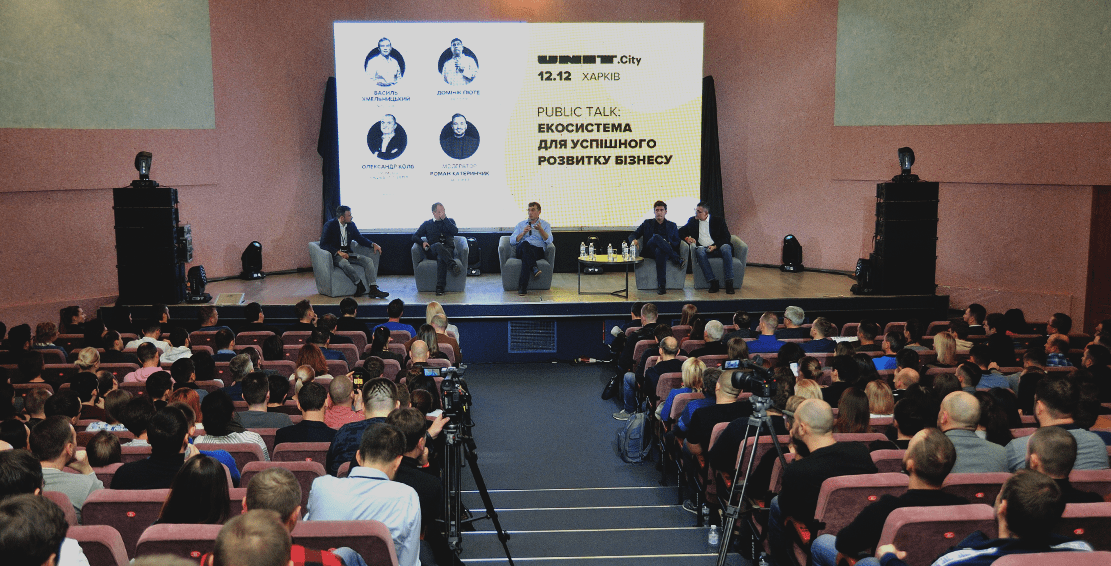 Ecosystem of Ukraine: the necessary conditions for successful development of business
How should business change today to meet the global challenges of time? What kind of ecosystem will promote entrepreneurship in the regions? What conditions will encourage professionals not to migrate and see growth prospects in Ukraine?
Entrepreneurs discussed these and other issues at the panel discussion "Ecosystem for Successful Business Development" at UNIT.City Kharkiv on December, 12.
Speakers of the meeting were:
Vasyl Khmelnytsky, Founder of UFuture;
Dominique Piotet, CEO of UNIT.City;
Olexandr Kolb, Founder of Promodo, Co-founder and Member of the Supervisory Board of Kharkiv IT-cluster.
Roman Katerynchyk, Founder of Artjoker IT-Company, Co-founder of MyCredit, and Member of the Supervisory Board of Kharkiv IT-cluster, moderated the discussion.
The Founder of UFuture shared UNIT.City's mission in Kharkiv. The main objective of the project is to support and develop entrepreneurship in the country.
"Every year, Ukrainian talents go abroad and don't come back. We need to build such an ecosystem and business for entrepreneurs to be successful here, in our country. For this purpose, we've created UNIT.City in Kyiv, construction of which has begun three years ago. It's a city in the city focused on innovation and technology. And I believe that by creating conditions similar to Silicon Valley in Ukraine, we will be able to stop the migration of our talents. UNIT Factory and INDAX accelerator that we've created have shown that such projects are capable of cultivating talents that can succeed in Ukraine. And a model like this can work in any major city in the country. One such project is UNIT.City in Kharkiv which is scheduled to open in March 2020. But today, we can see opportunities to become successful in our country and our city," Vasyl Khmelnytsky said.
French-born Dominique Piotet, CEO of UNIT.City, spoke about his experience in Silicon Valley and shared his vision of developing the innovation sector in Ukraine.
"The first thing I want to say is that I'm the result of the brain drain because I left France and went to the Silicon Valley for innovation, technology, and success. Moreover, over 50% of project managers aren't Americans who have reached a certain ceiling in their country. Yes, it is a good chance for the development of the Valley, but a tangible drama for other countries in the world. Because it's a magical place with conditions where you can work and develop, enrich yourself and the environment, create products and something truly new. I believe that our task is to duplicate everything that is happening there and be inspired by their example. First, to understand the power of talent without which nothing works, but which is sufficient in Ukraine. And second is an ecosystem when you create something big and significant in the place where your family and your roots are. Therefore, the task of UNIT.City is to create the conditions for you to stay and be successful here, at home," Dominique Piotet said.
Olexandr Kolb, Founder of Promodo and Co-founder and Member of the Supervisory Board of Kharkiv IT-cluster, commented on the moderator's questions about the necessary steps for government and business to develop the ecosystem.
"Currently, about 16% of IT-professionals plan to move to another country in the near future. These are truly catastrophic figures, but they are not just about IT, but about the whole creative class and talented people. The standard of living as well as the level of education and medicine in Ukraine, wishes for better. And the desires and steps of business are not enough, the state also needs to be involved in this process. I think that introducing the concept and principles of an ecosystem is a good step. After all, we also need space for a creative community that will make us stay here, in Ukraine, not in Silicon Valley. And for this, we have to develop and make a project where we will be able to work, relax, and get inspired," Olexandr Kolb summarized.