"Change history. La French Tech Kyiv will make a positive contribution to the new course of events," Dominique Piotet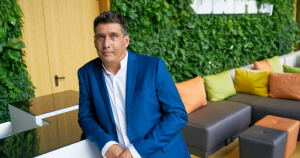 During the corona crisis of 2020, the Ukrainian IT market was able to demonstrate some of the best results on the world stage. For the domestic economy, the technological sector is a promising point of growth. However, for the rapid and efficient growth of the industry, professionals and their products need recognition on a global scale.
According to Dominique Piotet, CEO of UNIT.City innovation park and President of the non-profit initiative for technology companies supported by the French government La French Tech, bilateral cooperation between Ukraine and France will definitely attract more investors for our companies and generate real innovations of global importance.
The Ukrainian IT industry is a surprisingly well-kept secret from the world. I am really surprised that most people outside Ukraine are not aware of the powerful potential of the Ukrainian technology industry. Although the quality of talent that can be found in Ukraine does not cease to impress — the companies and products they develop are really worthy of recognition.
The concept of La French Tech is to unite people and organize access to various opportunities that contribute to the development of technology companies. Despite the limitations of the corona crisis, which forced the public to hold all meetings and events online, the emergence of the French technological community in Ukraine was greeted with enthusiasm. More than 50 companies joined La French Tech Kyiv in six months.
Given the experience of Le French Tech communities in neighbouring countries Central and Eastern Europe, it is quite possible to expand the number of members in Kyiv to 500 or even more companies. In addition to this priority, the plans for 2021 are to create opportunities for French representatives of the technology industry to visit Ukraine to see the potential for themselves. Limited international travel through the coronavirus has become a major obstacle to this kind of interaction, but I am convinced that we need to be able to travel again. From Paris only three hours to Kyiv. I see huge potential benefits from attracting French technology companies to Ukraine.
We need to change history. When people talk about Ukraine, it all comes down to corruption or war. La French Tech Kyiv can make a positive contribution to the new course of events, as there are extremely successful cases of French-Ukrainian cooperation. For example, Ubisoft, which creates incredibly popular computer games, has had a division in Ukraine since 2008, which employs more than 800 developers. This is exactly what we need to talk about in order to advertise Ukrainian IT.
Read more about the activities of La French Tech Kyiv, the origin and features of international cooperation between France and Ukraine and participation in this innovation park UNIT.City via the link.