Blockchain, NFT, Web 3.0: Is The Era of Open Internet Coming?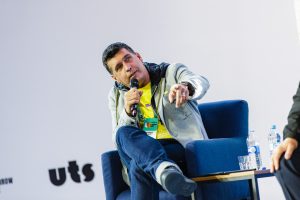 Web 3.0 is a new understanding of the World Wide Web with the focus on decentralization. No more tech monopolies with controlling and censoring tools? This is exactly what differs Web 3.0 from the current version of the Internet, Web 2.0.
The teams of the UNIT.City innovation park and the UFuture holding company saw that the world is really moving to Web 3.0 while visiting American Silicon Valley.
"Some will call this era Web 3.0, some will just talk about the blockchain. But whether you like it or not, a new era is here. It will not disappear. This will definitely become mainstream. Web 2.0, i.e. social networks and the Internet sharing economy, has reached its peak. And, to be honest, we are quite disappointed. We hoped for something more open, diversified. Instead, we have super monopolies that now can't even handle their own algorithm," said Dominique Piotet, CEO of UNIT.City.
It's time to give people back the power. And this is exactly what blockchain and diversified web technologies should do, wrote the top manager in an op-ed for NV magazine. There will be not only cryptocurrencies and NFT. The good news is that Ukraine is strong in this segment.
Trends in innovative companies
Dominique Piotet noted few more trends in the innovation:
metaverse (Facebook is not the only player here): MagicLeap raises a round of $3 billion to create perhaps the best Mixed Reality glasses on the market;
Silicon Valley has not changed: startups appear instantly, money is collected even faster, IPOs and exits are even more expansive;
era of super strong "mission" companies.
"Being a "missionary" in Silicon Valley is nothing new. But I have to admit that SpaceX has taken this idea to a new level. For them and Elon Musk himself the threat of the seventh potential extinction of our species is obvious. The only way to avoid this is to colonize other planets and become a multi-planetary civilization. Mars is the first step on this path. All the engineers in the company wear T-shirts "Colonize Mars". It's impressive. Honestly, I don't know how I feel about it," said the CEO of UNIT.City innovation park, which is being developed by the UFuture holding company.
Read more insights from our teams after visiting world innovation mecca at the link.