BlaBlaCar in Ukraine: how the service was born and developed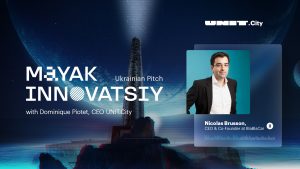 The popular service for joint trips originally from France BlaBlaCar has launched 15 years ago. And recently the team celebrated an important figure — 100 million users in 22 countries, said in a conversation with the CEO of the innovation park UNIT.City Dominique Piotet on his podcast "Mayak Innovatsiy" co-founder of BlaBlaCar Nicolas Brusson. 70% of the service's activity today concerns countries outside the EU, he adds.
Concept and history
The service known today all over the world was initially called Covoiturage — "carpooling" from French. The name was technical and incomprehensible outside of France. As a result, the BlaBlaCar brand emerged over time and proved to be extremely successful.
"Today, 92% of bookings on BlaBlaCar come from search queries by brand name. We do everything to simplify long-distance travel for people. We are thinking about creating a service for combined travel: when you start a trip, for example, on a train, and end up in a car. That is, our idea is a platform for long-distance travel, based on a community of like-minded people," he explains.
Ukraine
BlaBlaCar in Ukraine today has 8 million users.
"In 2012, when we decided to expand, the goal was the nearest countries. In 2012-2014, they expanded in the EU. After that, they began to think about going beyond it. And the first step was Ukraine. We found a great entrepreneur who initiated the launch of the service in Ukraine and Russia," said the CEO of BlaBlaCar.
Oleksiy Lazorenko, head of BlaBlaCar in Ukraine and Russia, is a very talented entrepreneur, says Brusson. He still works with the company, taking care of BlaBlaCar in two countries – 30 million users.
"Ukraine is a very interesting market for us. Here we have good profits, here we have expanded the service, including the opportunity to travel by bus. And the most important thing is a technological hub. After buying Busfor, we have 75 employees in Ukraine, we have 15 technicians. Whereas in the beginning there were only four. Thus, the integration of bus transportation into BlaBlaCar was developed entirely in Ukraine. That is, for us it is a techno-hub, an important office for technology development," Brusson emphasizes.
Ukraine is an incredible place from the point of view of technical specialists, he says. So BlaBlaCar does not hire outsourcers here, but key team members.
Covid-19
When the world stopped in March-April 2020, BlaBlaCar's activities stopped as well. From the situation of rapid development, the company found itself in a situation of complete cessation. Then there was a kind of yo-yo game, says Brusson: then they started, then they stopped, then they started again. However, this summer the service almost returned to the figures that were in the reporting 2019.
"Marketplaces like BlaBlaCar, Airbnb, or Booking.com will benefit from this crisis, and airlines like this will suffer greatly. That is, demand has shifted even more to marketplaces and online distribution. This trend was even before the pandemic, and during that time it only accelerated," Brusson explains.
What's next
So the pandemic has only accelerated the trends that arose before it. In the near future, CEO BlaBlaCar expects to resume travel, "because people need communication."
"This is very noticeable in the way people in Paris or Kyiv are looking for any opportunity to go out to the city for lunch or chat. We are social beings, we need a connection. In general, I am an optimist. It is impossible to be an entrepreneur and remain a pessimist," he concluded.
Listen to the full version of the conversation with BlaBlaCar co-founder Nicolas Brusson on Dominique Piote's podcast "Mayak Innovatsiy".