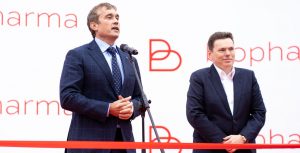 Biopharma: jobs, taxes and millions of investments
On September 20, Biopharma, the plasma fractionation plant, was officially opened in Bila Tserkva. Only few countries in the world have similar production. Therefore, the ceremony actually has been the celebration of the long-awaited overall triumph.
Over four years, more than $75 million has been invested in the plant. The design capacity of the enterprise allows to process up to one million liters of plasma per year, which completely meets the needs of Ukraine for blood products. From now on, they don't need to be imported, and this allows the state to save about $100 million annually.
"Today is the most important day in my professional life! Today we are launching the most innovative biotechnology plant in Ukraine. Number one in its class. Among the 25 plants on our planet that can be compared to ours, we are in the top ten, and there is no doubt about that! I've believed that this day would come — September 20. It has become a new page in the modern scientific and industrial history of Ukraine, as not just a new production facility has been created, but a new high-technology industry was launched. This puts Ukraine on a par with such countries as the USA, Austria, Germany, and allows us to enter the world market with medicines, the production of which requires a research base, the high production culture, development of donorship infrastructure to the highest standards. Today, Ukraine has proved that it's capable of that!",– Biopharma's President Kostyantyn Efymenko said.
Later, in a conversation with journalists, Kostyantyn proudly said that there was no analog of such production in the CIS and Eastern Europe, and called the plant a work of art.
According to Vasyl Khmelnytsky, founder of UFuture, Biopharma is an impetus for the country's economic growth:
"What is Biopharma? First, it's a high-quality and not expensive product; secondly, jobs; and thirdly, taxes. I am sure that if we want to raise the economy of the country, if we want to raise teachers' salaries, pensions, we need to build more plants. Because no one in the world is interested in raising production in Ukraine. Everyone is ready to give us loans to buy the product. And every country that sells a product to us raises its own economy. Therefore, Biopharma is a good example of how business can earn money and help the state. Biopharma is a boost to the country's economic growth. And I encourage entrepreneurs – let's focus on building our country's production!" – Vasyl Khmelnytsky said.
Lenna Koszarny, Founding Partner and CEO at Horizon Capital, said that she was proud of the fact that a plant of this level was launched in Ukraine:
"I've talked to many people today. I've asked them where the closest plant like this was in the north? They've answered that it didn't exist. And the closest one in the south is in South Africa. In the east – in China. In the west – in Austria. And now we've got such a modern plant in Ukraine. It's just fantastic! When we invested, we not only thought of efficiency and profitability, we also thought that Ukraine threw away about 120 tons of plasma annually. This is why we decided to invest in this plant with FMO, the Dutch Development Bank in 2012. We need to process plasma for cancer patients, for pregnant women, to treat hemophilia," Lenna Koszarny said.
Biopharma will produce vital drugs: Factor VIII – a necessary drug for hemophilia patients; albumin, a preparation for the restoration and maintenance of blood circulation in trauma and surgery; immunoglobulins, blood proteins that are widely used to enhance the body's ability to resist disease.
The opening ceremony of the plant was also attended by Zoryana Skaletska, Minister of Health, and Mykhailo Radutsky, Chairman of the Verkhovna Rada Committee on
on Healthcare.
Zoryana Skaletska has said that Biopharma's launch was an important element in the development of the Ukrainian healthcare system and has read an official congratulations letter from Prime Minister Oleksiy Goncharuk, "This is an important event both for the Kyiv region and for Ukraine. There are no such plants in any post-Soviet country. Ukraine is the first. The creation of modern production was made possible by investments of more than $70 million, as well as the participation of international inspectors, researchers, and experts. Biopharma will be among the top ten manufacturers of plasma-derived products, and it will double tax revenues for Bila Tserkva's budget. And this is additional UAH150 million for the development of society annually. The new production will allow the Ministry of Health to fully meet the country's domestic plasma needs. This is an important element of national security and preserving the health of citizens."
The company has big plans: Biopharma's President Kostyantyn Efymenko and partners expect that the company will enter the world's top-five of fractionation plants within a few years.